Coaching, Transitions, Writings
Welcome to Coaching at the Crossroads. I coach professionals who are in transition. I also am an author and poet. You will find information about coaching and about my books here. 
I am a professional coach who can help you take focused action in managing both expected and unexpected changes in your life. Click here for more on coaching. Life is exciting; sometimes it is a challenge. It can bring you to a crossroads. You are asked to change. I can help you negotiate those transitions so that they can be positive experiences. Click here for tips on transitioning.
Along with my coaching skills, I bring my skills and experiences as a teacher and a lawyer to benefit you in my coaching. Click here for more on Marilyn.
I am also an author. Click here for my books. My books reflect some of the experiences I bring to coaching. 
I am pleased to announce my new ebook, Love and Fun.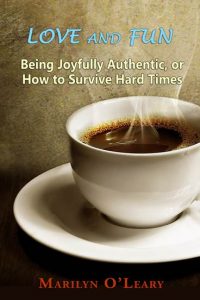 This is a book of short pieces that look at how to live an authentic life. They include personal experiences that I hope you relate to.
This book is available on your Kindle or Kindle app from Amazon.com. To purchase the book now for $2.99 click on the link below.
For a sample coaching session at no cost, contact me through my contact page. I will get back to you to set up a time. All coaching is completely confidential.