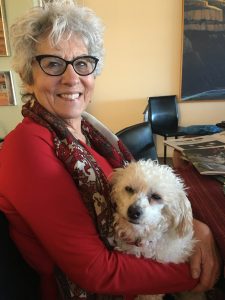 I bring my skills and education as an attorney, educator, businesswoman, and author to my coaching. I also bring my experience as a mother, wife, caregiver, and coach to my clients.
After many years in the professional work force I have come to understand the value of balance in one's life. Also, caring for a husband with serious illness taught me not to postpone life's joys and pleasures. As a co-active coach who understands the importance of considering a person's whole life, I work with clients to help them express their entire creative selves in all their endeavors.
Professional Background
Marilyn C. O'Leary became a Professional Coach as a natural progression from her work guiding people as an attorney, educator, writer and speaker. As a practicing lawyer in both the private and public sectors, she has worked in the fields of utility regulation, water law and policy, and the environment. As an educator, she has taught  literally at all levels. She most recently directed the Utton Transboundary Resources Center at the University of New Mexico School of Law, where she was a research professor.  As the executive director of a state agency, she directed the work of the agency and managed the work of attorneys, economists, accountants, and engineers. In private practice she developed a mentoring program for associates and new lawyers. In academia she directed a transboundary resources center, producing major interdisciplinary conferences on water law and policy, materials on water law, and legal education programs. She has counseled clients, taught peer counseling, and mentored student teachers and law students.
Marilyn is a certified professional co-active coach (CPCC), having received her training with The Coaches Training Institute (www.cti.com).
For a sample coaching session at no cost, email me at marilyn@marilynoleary.com. I will get back to you to set up a time. All coaching is completely confidential.