I write books about change, exploring the joys and pains of transformation, loss and grief, and how to find joy in life. These books are about spiritual practice and reflection at different times in my life as a wife, widow and friend — opening a door to share what I've learned, and what insight I've gained.
So far, I've written and co-written four poetry books — poems about loss and poems about joyful living — a memoir/self help book about heartbreak and coping with a chronic illness, and a self-discovery book that inspires self-reflection what it means to "come of older age." The print or Kindle versions are available on Amazon. Print versions of some are available at Bookworks in Albuquerque.
No matter what life brings you, change provides an opportunity to grow more positive and gain true depth from the experience. I hope these books serve as an inspiration to your own personal growth, change and healing.
---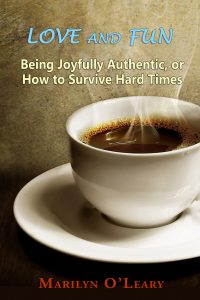 Love and Fun: Being Joyfully Authentic, or How to Survive Hard Times
Marilyn C. O'Leary
Life gets hard at some point for each of us. The problem can be personal, but sometimes it is something society is experiencing that we don't know how to deal with. Dip into this small book of short writings for some ideas of what to do when things feel bad or life seems out of kilter. These writings can also provide a starting point for conversations with friends. Has life thrown us a curve ball, something unexpected? Or is it a life transition that we all must face– aging, illness, or death? This upbeat book can help us figure out how to think about it and how to do more than just survive, but to thrive in hard times.
---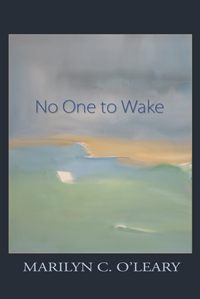 No One to Wake
Marilyn C. O'Leary
In No One To Wake, Marilyn C. O'Leary shares "a bouquet of mourning" the death of her husband of fifty years. This book of poetry is beyond beautiful. And one needn't have been married for fifty years, or married at all, to feel softly wrapped in the understanding of how it feels to lose someone you love deeply. Both pain and transcendence are painted in her poems, plus the naturalness and magic of death itself "…you took your leave breathing like a fish, swimming out into an ocean of darkness and love." She also addresses the guilty urge to look back and question whether she did enough, whether she was enough "The recipe for my life had ingredients you didn't like," and then acknowledges that "Our relationship was whole." And then there's the need to go on.
She recognizes the "freedom" that comes from loss; "sadness an opening… (to) find yourself unwrapped. I could do anything, be anything, go anywhere," she writes, but "What if it wasn't you who kept me tethered?" In this small book, O'Leary takes us from the dark folds of anguish where we're sometimes drawn towards death ourselves, to the realization that "The answer to all is Life."
---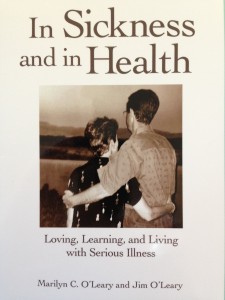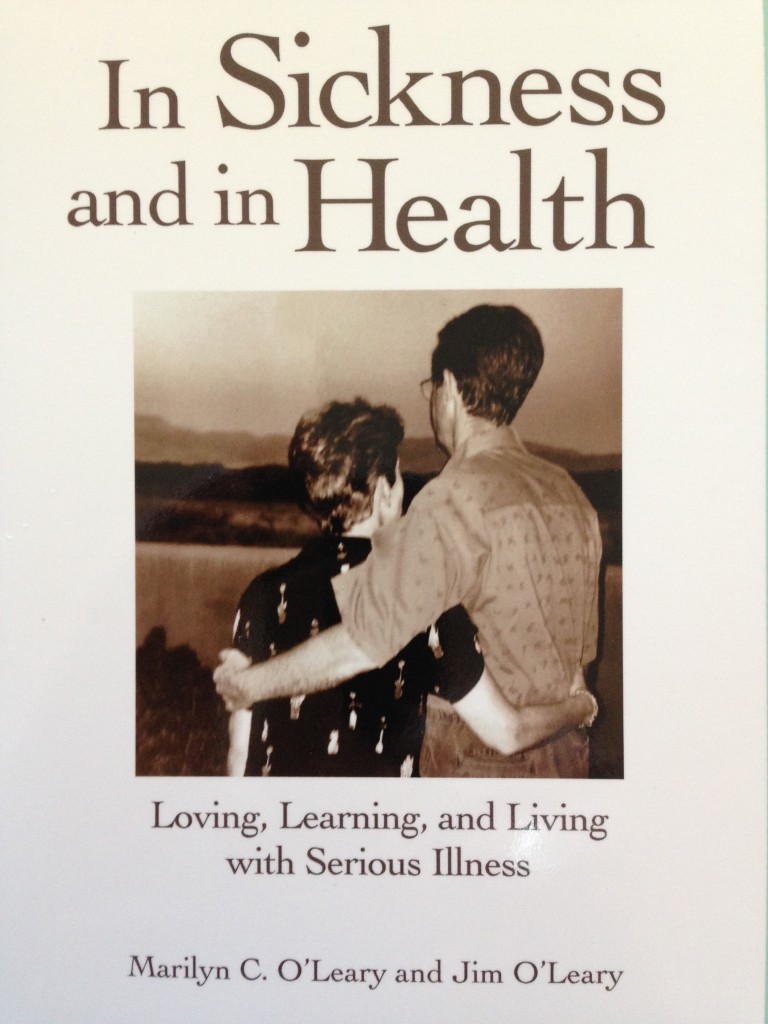 In Sickness and in Health: Loving, Learning, and Living with Serious Illness
Marilyn C. O'Leary, Jim O'Leary
When Jim was in his fifties, he began to feel tired and depressed. After months of deteriorating health and numerous doctor visits, he was diagnosed with what was then known as non-A non-B hepatitis and what is now known as hepatitis C. He ultimately was told that he needed a liver transplant. But his insurance wouldn't pay for it. Their lives went from taking vacations such as bike trips to Italy, rafting through the Grand Canyon, and camping with family and friends, two months of slogging through a medical system that refused to pay for a quarter of a million dollar surgery.
The two seemingly insurmountable questions that had to be resolved were whether Jim could receive a liver before he was dead from hepatitis C and if so, whether he could somehow get the surgery without the insurance to pay for it. In Sickness and in Health: Loving, Learning, and Living with Serious Illness, is the story of how Jim and Marilyn faced these terrible challenges with the help of friends, family, and a determination to never give up. How Jim received his transplant and how he coped with a myriad of illnesses resulting from years of anti-rejection medication, including cancer and heart disease, is what this book is about. Jim and Marilyn tell this story in their own words, taking the reader on the journey from despair to hope, and providing useful information.
---
Boomers, join these conversations for choices on growing older your way.
The 76 million baby boomers who once could not imagine life beyond age thirty now find themselves not only crossing the threshold of mid-life, but continuing to get older. For this youthful, active generation, the reality of aging can be a profound-and rude-rite of passage as confusing as the transition from adolescence to adulthood, and one for which society provides few tools. In Keep Choosing, Keep Living, three cousins invite readers to engage in a compelling conversation about what it means to "come of older age" in America, and to consider the real choices they can make to shape their lives…
---
An intelligent analysis of the problem of water rights in the greater Southwest and a significant contribution to American Indian legal history."  —University Publishing New Books Supplement