CHECK OUT THIS DISCUSSION GROUP I'M FACILITATING – APRIL 2021
Me and White Supremacy:
a journaling and discussion group
I am excited to be leading this group beginning in April. After attending a reading by Layla F. Saad at Bookworks last year, I read her book, worked through the questions, and discussed it with a group from the Rio Grande Center for Spiritual Living. It was eye-opening if not life-changing for me.
The group is for white people to read the book "Me and White Supremacy" and to work through the guided journal. The journal is a guided experience that provides thought for discussion. This experiential book provides many opportunities for insight and ideas for change.
White people will become more aware of unintentional bias and raise their consciousness of their role in supporting white supremacy. The book is clear, and the discussions are held without judgment, but for insight and calls to individual action.
Get the books at Amazon or at Bookshop.org
Date: Begins Tuesday, April 6, 2021 for 6 weeks, from 3:00 – 4:30
Via Zoom
Cost:  $60
Sign up at https://rgcsl.breezechms.com/form/393eb62557321799971811482
For questions email me at Marilyn@marilynoleary.com
RADIO INTERVIEW TO BE AIRED JANUARY 25
My interview by Melinda Joy Pattison will be aired Saturday, January 25, 2020, at 5:00. We discussed How to Be a Widow, some of the things that changed after Jim's passing, both expected and unexpected.  You can listen on Radio KTRC, Santa Fe 1037 and 1260 on January 25 or access the interview after it is aired on SantaFe.com/podcasts/the-melinda-joy-hour-with-guest-marilyn-oleary.
HOW TO BE A WIDOW UPCOMING READINGS AND BOOK SIGNINGS
Find the venue closest to you and please come!
Sunday, August 4, 2019 – 1:00 p.m., The Rio Grande Center for Spiritual Living, 4374 Alexander Blvd. NE, Suite T, Albuquerque, NM
Sunday, August 25, 2019 — 1:00 – 3:00, Treasure House Books & Gifts, 2012 South Plaza NW, Albuquerque, NM (across the street from Old Town Plaza)
Sunday, September 1, 2019 — 3:00 p.m., Organic Books, 111 Carlisle NE, Albuquerque, NM
Sunday, September 8, 1:00 p.m., private home, Santa Fe, NM. With Mary O.  Kirschner. Call 505-238-6213 for information.
Sunday, September 29, 2019, 3:00 p.m. Bookworks, 4022 Rio Grande Blvd. NW, Albuquerque, NM
Saturday, November 16, 2019, 2:00 p.m., op cit books, DeVargas Mall, Santa Fe, NM, with Mary O. Kirschner
******************************************************************
AUTHORS FOR LITERACY
I will be at The Authors for Literacy Book Sale and Signing at the Moriarty Civic Center on Saturday, April 27, 2019, from 10::00 to 4:00. Illustrators, publishers, and artists will be included this year.
CHATTER
I will be reading a poem at Chatter, Sunday April 28,2019. For more information go to www.chatterabq.org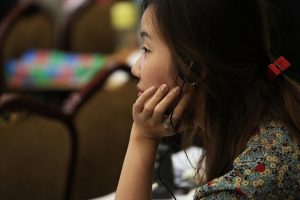 THE POWERFUL AND CREATIVE ROLE OF MINDFUL LISTENING
A Workshop On Advanced Listening
I am delighted to be able to present this workshop at the New Thought Center of Hawai'i on the Big Island in January. This is one of my favorite places, and I hope to meet new and old friends when I am here.
Listening as a way to connect. Listening as a path to peace
Sunday, January 27, 2019
1:30- 4:00 pm
New Thought Center of Hawai'i
Pualani Terrace, 81-6587 Mamalahoa Highway, Kealekekua, Hawaii
Suggested Love Offering $25
Facilitator: Marilyn C. O'Leary
email marilyn@marilynoleary.com to register
Worthwhile for Everyone.
Especially useful for couples and family members.
This is what participants have to say about the past Creative Listening workshops.
"A very thoughtfully organized and well presented workshop, with just the right mixture of presentation and audience participation. And given the times we live in, a very timely topic." Keith Auger
"As one who teaches listening skills to nurses and other health care professionals, I can say that Marilyn delivers a superb workshop!" Darlene Hess
---
Marilyn, Mary Dudley, and Mary Oertel-Kirschner read their poetry from the new Fixed and Free anthology at the 516 Gallery on October 20. A great thank you to Billy Brown for providing such a wonderful opportunity to many wonderful Albuquerque poets to be published and to read.
Fixed and Free poetry readings are held the 4th Thursday of every month. Open mic signups begin at 6:30. Billy Brown is the father of Fixed and Free. He can be contacted at welbert53@aol.com