Dog Treats and Aging
So I was standing in a clothing store in Santa Fe with my friend who was considering whether to buy a jacket, and I reached into my jacket pocket to get an Altoid. It's the same jacket I wear when I take my dog for a walk. The Altoid didn't have the right peppermint taste or the right texture, and after trying to bite it in half, I discretely took it out of my mouth to see a wet dog treat. I hooted, my friend laughed, and she ended up buying the jacket.
We have to take our laughs whenever and wherever we can, and especially about ourselves. I don't think this episode had anything to do with aging, but it made me think about how often we think aging is the reason we do unexpected things that we might have done when we were younger, like when I sprayed Febreze on my hair when I was engaged in a really interesting phone call instead of the equally good- smelling hairspray I use from my salon.
But blaming ourselves for things like that instead of seeing them for what they are is partly due to negative stereotypes about getting older that permeate our culture. We're afraid of aging (which everyone is doing all the time) because we have been taught that it's bad.
To counteract these negative beliefs, which have been proven to shorten our life spans, I am facilitating three workshops to raise awareness of the effects of negative age stereotyping and to strengthen the truth we inherently know – that we want to be engaged in the world in our own way even as we add more years to the clock.
I invite you to sign up now to attend these workshops.
Three Workshops Explore How to Age Exuberantly
Led by Marilyn O'Leary, RScP, author, professional life coach, and experienced teacher and facilitator
Journaling: It's an Inside Job
Saturday, March 18, 2023  from 1:00 – 4:00 pm
Marilyn will show how to use journaling to reveal our thoughts, including negative ideas about aging we have accepted from society. We'll also create affirmations to counter these thoughts and build new, life-affirming beliefs.
Listening: The Basis of Connection
Saturday, April 15 from 1:00 – 4:00 pm
Dr. Norm Dawson will discuss the connection between hearing loss and dementia and how to avoid it. Marilyn will then facilitate experiential exercises in deep listening to foster meaningful relationships.
Keep Moving: Physical Movement and Exuberant Aging
Saturday, May 13 from 1:00 – 4:00 pm
Carol Helms, personal trainer, will lead us through exercises for all abilities that support health. That will be followed by information on how recent research on exercise supports spiritual beliefs about the body, and how to deepen our commitment to a healthy body-mind-spirit.
The cost is $105 if you sign up for all three workshops, or $40 if you sign up individually. To reserve your place, call (505) 224-9405 or go to https://rgcsl.breezechms.com/form/a515852660
All workshops will be held at the Rio Grande Center for Spiritual Living, 4374 Alexander Blvd. NE Suite T, Albuquerque, NM  87107
PAST EVENTS
HOW TO BE A WIDOW UPCOMING READINGS AND BOOK SIGNINGS
Find the venue closest to you and please come!
Sunday, August 4, 2019 – 1:00 p.m., The Rio Grande Center for Spiritual Living, 4374 Alexander Blvd. NE, Suite T, Albuquerque, NM
Sunday, August 25, 2019 — 1:00 – 3:00, Treasure House Books & Gifts, 2012 South Plaza NW, Albuquerque, NM (across the street from Old Town Plaza)
Sunday, September 1, 2019 — 3:00 p.m., Organic Books, 111 Carlisle NE, Albuquerque, NM
Sunday, September 8, 1:00 p.m., private home, Santa Fe, NM. With Mary O.  Kirschner. Call 505-238-6213 for information.
Sunday, September 29, 2019, 3:00 p.m. Bookworks, 4022 Rio Grande Blvd. NW, Albuquerque, NM
Saturday, November 16, 2019, 2:00 p.m., op cit books, DeVargas Mall, Santa Fe, NM, with Mary O. Kirschner
******************************************************************
AUTHORS FOR LITERACY
I will be at The Authors for Literacy Book Sale and Signing at the Moriarty Civic Center on Saturday, April 27, 2019, from 10::00 to 4:00. Illustrators, publishers, and artists will be included this year.
CHATTER
I will be reading a poem at Chatter, Sunday April 28,2019. For more information go to www.chatterabq.org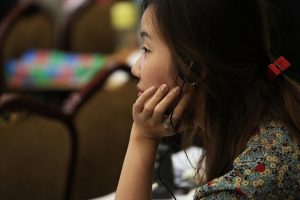 THE POWERFUL AND CREATIVE ROLE OF MINDFUL LISTENING
A Workshop On Advanced Listening
I am delighted to be able to present this workshop at the New Thought Center of Hawai'i on the Big Island in January. This is one of my favorite places, and I hope to meet new and old friends when I am here.
Listening as a way to connect. Listening as a path to peace
Sunday, January 27, 2019
1:30- 4:00 pm
New Thought Center of Hawai'i
Pualani Terrace, 81-6587 Mamalahoa Highway, Kealekekua, Hawaii
Suggested Love Offering $25
Facilitator: Marilyn C. O'Leary
email marilyn@marilynoleary.com to register
Worthwhile for Everyone.
Especially useful for couples and family members.
This is what participants have to say about the past Creative Listening workshops.
"A very thoughtfully organized and well presented workshop, with just the right mixture of presentation and audience participation. And given the times we live in, a very timely topic." Keith Auger
"As one who teaches listening skills to nurses and other health care professionals, I can say that Marilyn delivers a superb workshop!" Darlene Hess
---
Marilyn, Mary Dudley, and Mary Oertel-Kirschner read their poetry from the new Fixed and Free anthology at the 516 Gallery on October 20. A great thank you to Billy Brown for providing such a wonderful opportunity to many wonderful Albuquerque poets to be published and to read.
Fixed and Free poetry readings are held the 4th Thursday of every month. Open mic signups begin at 6:30. Billy Brown is the father of Fixed and Free. He can be contacted at welbert53@aol.com